Old News
April ~ June 2004




June 15
Okay, now I've given in a broken a promise to myself. I really, really wasn't going to have a link page. Link pages are a lot of work and I always feel guilty for the people's who's sites I don't add. Ahem... Look at the menu! *blushes*

I've decided to add the sites I check myself on a very regular bases (that way I will not end up with broken links)but not the sites I just visit on semi regular bases. (I've also added a couple of close friends) My lists of "must visit" favorites varies from time to time and so will my link page. Just because your site isn't there right now is doesn't mean that it will never end up there. You just have to trick/tempt me to visit your page at least every other day or so. LOL (Bribes might work as well LOL)

June 14 This is me... sort of! LOL I don't own a witch hat for real and if I did I can promise you that there would be NO spider dangling from the tip of it. *shudder* LOL

I made this doll for the "Chapeau Chic" Contest at Sabraelle's Garden, a contest for doll hats. (no adoption)

June 13
It's my sister Pink's birthday today so I made this little guy for her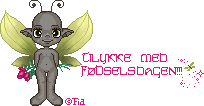 He's very much related to the doll I made when I asked her to be my sister but it's a completey different base (even from a differnet site).

Since Pink is Danish I thought it would be fun to whish her Happy Birthday in her own language.

June 12
Look it's me!!! I've made this doll for the sister banner Pink and I have created (we each made our own dolls and Pink made the banner) but I decided to make her in purple as well to use for my siggy, even though I actually wear green a lot as well. (no adoption)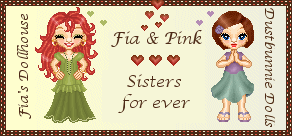 And talking about sisters, I've had time to finish my sister page now too.

June 11
Yay!!! I've gotten my first sister!!! :o)
I created this little guy as a surprise for my friend Pink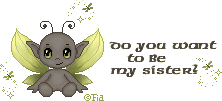 And lucky for me, she seems to have liked him (and hopefully me LOL) and sent me this doll back. Isn't it gorgeous?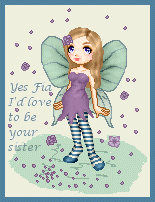 I've been a bit too busy with the "secret project" so I haven't had time to create a sister page for my site quite yet but it will come.

And as for the "secret project", well I volunteered to be Pink's obedient HTML-slave and I've helped her create a doll site. Let's just say that it involved LOTS of work!!! And you just have to go see it, after all, not many newbie sites starts out with almost 300 dolls!!!!! (Yes, it IS true, 285 dolls last time she counted, including the layout doll)

So what are you wating for??? Ooooh, the link of course!!! LOL I knew it was something. LOL





June 07
Still working on that project with my friend. Let's just say that it's keeping me REALLY busy LOL (I know all too well that I've got a couple of mails to answer. Sorry!). But I just wanted to drop by to tell that I've won 3rd prize for my Twi'lek at Enchanting Star. Yay!!!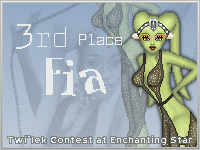 Not TOO bad for someone that's never seen the Star Wars movies. LOL And big congrats to my friends Steph (2nd place) and Loopy (Emily's choice). :o)'

June 4
Look what I've gotten from my friend Christina! Isn't he the cutest thing? And he looks soooo god on my site too! :o) Just the right colors!

Right now I'm helping out a friend with a project (doll related of course LOL) so I don't have much time to create dolls of my own right now. But I'm sure you will enjoy our project. ;o)

May 25

Happy Birthday to me! Happy birthday to me! :o) Isn't this the prettiest birthday doll you've ever seen? Thanks Sonja! *big hugs*

Added: I've also gotten this sweetheart from Pink! *hugs* Don't you think she makes just amazing hair? And she also knew my favorite site for bases. :o)


May 09
Another contest entry! This time it's a Twi'lek for my friend Emily's Twi'lek contest at Enchanting Star. I've never seen the Star War movies so this was a completely new character for me. I just hope I got her right. LOL (She's not for adoption of course)

You know, looking at these three dolls I wonder if I'll EVER find MY style or if my style is being able to make VERY varied dolls? LOL They look like they're made by three different people, don't you think? LOL Well, I HAVE truly made all three of them myself.


And finally a gift from my friend and sister in law, Sonja. You know you REALLY should check out her site, Svandolls & Graphics. She's a REALLY talented doller with a very unique style (unlike me she's been able to find her own style) LOL

May 06
This time I made a contest entry for Xandorra's "Ribbons, Lace & Velvet" contest. Hope I made it in time! *fingerscrossed*

The tricky thing with this contest was the 20kb limit so I had to stick to pixelshading instead of adding noise to increase the velvet look and use tool shading which I had planned. It's a good thing I like pixelshading. LOL

(This doll is not for adoption)

May 04
Yessssss!!! I AM back to dolling again! :o) This time it's a doll that's made both for the "Sentimental Base Edit" at Simpixels and for the "4 Season Dollz" at Svandollz & Graphics. Hopefully you're able to tell that she's "Winter". :o) (Sorry, not for adoption)

BTW, if you're curious about Simpixels & Graphics I recommend that you become a member as fast as possible because soon we will close the doors and become "Members Only/Membership by referral" for a month or more. (And you really SHOULD be curious because we're a fun, friendly forum that fits well for both dollers, simmers and other graphics artists. We're also quite newbie friendly.)

May 03
Look what I've gotten from Emily!!! *big hugs* I'm just glad I was able to help you out! :o)




April 28
Look!!!! Three new dolls!!!! :o) A sparkly mini Fia (No, I'm not that sparkly IRL LOL), a fluffy-bunny for the "Make it pink" challenge at Simpixels & Graphics and a little teddy just because the fluffy-bunny needed a friend. LOL

Both the bunny and the teddy are available for adoption but the Fia doll isn't, for obvious reasons. LOL I'm too old to be adopted anyway. LOL

And finally a gift from my friend Pink. Just a little blinkie she made when Simpixels was down for maintenance for an entire day and more. It was a scary experience! LOL




April 26
Yay! Congrats me! I've won an award (or actually several awards in one) for my little rose doll in Lunar Eclipse's base edit contest. It's not too bad to win both 2nd place, Most Original, Best Shading and Cutest for the same doll. :o)





I've also added two late Easter Gifts. Thanks Loopy and Gin! :o)

April 06
Let's face it, that "stupid" simming takes most of my time these days. LOL That and my great forum of course.

Luckily I've got some nice friends over at Simpixels & Graphics that haven't given up dolling for Sims (no, I haven't "given up" I'm just busy. LOL) so I've gotten some wonderful gifts lately! Check out the seasonal page of my Gifts section. Thanks all of you!!!

I've also gotten a St.Patrick's gift that I forget to put up. *blushes* Thanks Ly!

Oh, and I've added my pirate doll at my friend Frog/Sarah's pirate contest at her new site Hidden-Penguin. Since it was okay to enter with an old doll I just couldn't resist. LOL (The base, Mawled N' Dolled, seems to be down at the moment though).





Back!