October 4
Let's just say that things haven't gone that well with my computer. Building it was the easy party. The only hardware problem that occurred was that the power supply wasn't strong enough. But the software, the software... *bangs head at keyboard and the edits out all the letters cause by this* LOL). I have now re-installed AGAIN, and I'm taking things very slow..... And I'm still pretty much on hiatus.

BUT.. I've gotten a whole bunch of gifts that I just have to show you. :o)





First of all I got this adorable mini faery from my sister Pink to cheer me up when I struggled the most with Deadmeat (Deadmeat is my new computer. He's earned that name. LOL) It's a copy of one of her bigger faeries that I really love.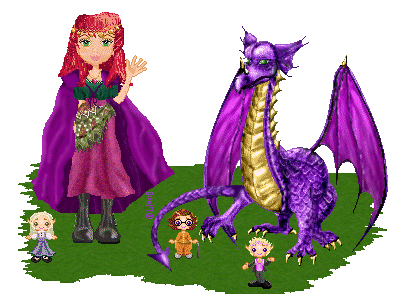 Then there's the Doll Swap doll (or rather dolls) that I got from my friend Kiri at Simpixels Doll Swap. I soo love this one! It's me and my sisters (as imps of course LOL) and a pet dragon! The gif-monster ate parts of it but I also have all dolls as singles.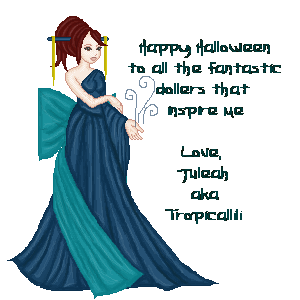 And talking about Simpixels, I've also gotten these two fall gifts from Sarah and Juleah





And finally a shop order that I bought from TanyaTK at Eden Enchanted. Yup! It's me! :o)

That's all.... I think! I hope I haven't forgotten anything (If I have, please let me know) Now it's back to installing programs and other fun computer related stuff.

September 12
So much for my hiatus, eh? LOL Well, actually, the computer parts I've ordered didn't arrive when I expected them to so I got some spare time and was able to make a couple of more dolls.

One is for the Doll Swap at Simpixels & Graphics and I've finished my last two shop orders for a while too. (see my Eden Enchanted page)

I've also bought this wonderful blinkie from Midntblue's shop at Eden. Isn't it adorable?





I'm still threatening you with some sort of hiatus though. I will hopefully get the computer parts tomorrow and then I'll devote most of my time to TS2 (The Sims 2). But who knows I might actually have time to squeeze in a doll or two too. LOL

September 09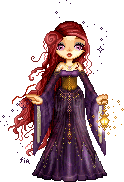 Look! Isn't she fantastic?
I bought this doll from Bee at Eden Enchanted.



I've also made a shop order myself, a little belly dancer imp. She's quite unique, don't you think. LOL

BTW, I will rebuild my computer (or actually build a new one, to 95% at least) so I might go on a small hiatus for a while. Hopefully I've got time to make another doll or two before they release The Sim 2 though. LOL Keep you fingers crossed that everything will go well with my computer!

September 3
Time for 3 more shop order imps! You can see all of them on my Eden Enchanted page.

On the same page you'll also find the newest items I've bought. This doll by my friend Nyx is just an example.




Isn't she adorable? :o) And she's even added a little imp for me, I wonder why? LOL

Today I've also worked hard as HTML-slave for my sister Pink, helping her to put up a new layout for her site. BTW, If you haven't seen it yet, check out her wings tutorial. She makes amazing wings!

August 31
This month I actually managed to finish my doll of the month before the month was over. Yay! Go me!!! LOL

August have been "the month of the imps" for me so of course I had to add a couple of imps. LOL I also tried to dress her in really cool and airy clothes since we've had a REALLY hot and humid period in August.

I've also finished another shop order that I liked so much that I used her as my inspiration for my August doll as well. (Nothing for adoption this time either)

August 29
Yesterday was my sister Sonja's birthday and I'd of course made a gift for her! :o) (I was a bit too stuffed when I returned from the birthday party to actually update the site though. LOL) It's says "Happy Birthday! Hugs Fia!" in Swedish.

I've also added a new shop order, a little gypsy imp. (None of these dolls are for adoption.)

August 26
More imps!!! LOL What else did you expect?

First of all a little fall imp! She's made for a challenge at Eden Enchanted but she's still for adoption. :o) Isn't she adorable? I've also finished two shop orders that you'll find on my Eden page (not for adoption)

And last but not least, I've won two awards at the "Unfinished Contest" at Lunar Eclipse, 3rd prize and Ly's Choice. The awards are pretty big so I'm only showing them off on my awards page.

August 25
Lots of news! First of all I've gotten the most adorable gift from my sister Sonja!

| | |
| --- | --- |
| | It's VERY me! :o) In case you like little impish bases you just HAVE to check out the ones she's just made, this doll is made on one of them. |

And talking about imps. I've opened up a shop (full of imps LOL) at Eden Enchanted, called Fia's Fantasia. I have made a mushroom house to use as my banner! (not for adoption) If you're a member at Eden you'll have a chance to order your own imp. And if not, there's a new doll at my imp-section here at my site, available for adoption.

And finally I've added two new sections for the forums I belong to, Simpixels and Eden Enchanted. (I belong to a third forum as well, Fractured Fairytales, but I don't have any FF-related dolls to display yet.)

August 23
Look, I've got a new sister again! LOL This time it's my wonderful friend and sister-in-law Sonja! :o) I couldn't resist asking if we should "upgrade" from sisters-in-law to sisters-in-dolls. LOL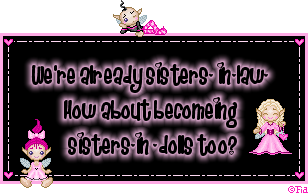 And lucky for me she liked the idea!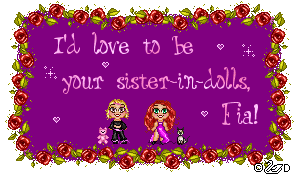 Of course I had to make "sister-imps" of us two. LOL And yes, Sonja, really DOES have pink bangs. LOL In fact, when you visit her site you will realize that she likes pink A LOT. :o)





While you're ooohing and aaaahing over all her fantastic dolls (as I'm sure you will) don't forget to check out her bases too.

And finally, in case you've missed it, I've added a small link-button too for the ones of you that prefers this. You'll find it on my links page.

August 22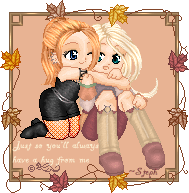 I've gotten this wonderful "hug" from my friend Steph. Thanks!!! (((Steph)))



August 21
Look what I have bought at Tee's shop at Eden Enchanted!!!!!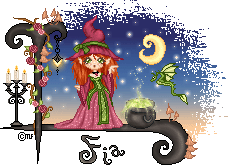 Isn't it the most wonderful thing you've ever seen???? I've never looked this good before! :o) Getting custom doll from Tee is a dream come true! *faints* If you've never been to her site you HAVE to. (Yeah, like there's a doller that's missed Tee's site??? LOL)

I will have to create a special page at my site to put up my Eden stuff in the future.

August 18
I've got a new sister!!! :o) Lyran and I are close RL friends and run Simpixels & Graphics together and when she finally got sucked in to the world of dolling (Muahahaha!) I of course had to ask her to become sisters. (This is BTW how I got hooked on imps LOL)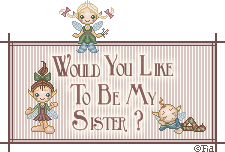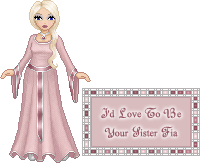 Lyran was tricky enough to make me believe that she was creating this doll for another sister (she even showed it to me with another text) so oddly enough I've seen this doll from start to finish without realizing it was for me. It's my favorite of Lyran's dolls though so I became really happy when I realized it was mine. :o)

I REALLY recommend you to visit Lyran's newly opened site to see the rest of her fantastic dolls!





And finally I've "impy-fied" me and my two sister (who also happen to be sister with each other), both to use for my own sister site but also to give them as a gift. (not for adoption of course) I have also rearranged my links a bit and added a couple of new sites that I can recommend.

August 17
Look! I won 2nd place in DHF's Tissot contest! I must admit that I'm very proud of this award! :o)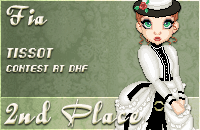 I'm also proud to be a part of a special project (only as a "model of inspiration" though LOL) See more under Gifts/Fia-dolls for more info (and to see a really beautiful doll).

And now onwards to my own dolls. At my forum Simpixels we're only able to have 60x60 pixels avatars and I'm happy to say that I've now been able to create dolls of me small enough to fit that size. LOL I found the first doll to be a bit too bright and cute to really fit me though so I made an imp-version of myself too. She's still cute but not quiet as sugary. LOL (You can see the finished avatars under Fia-dolls

Of course non of these dolls are for adoption (not that it would surprise you, right?), but... are you sitting down now?.... I really advice you to go have a look at my new Doll-section Imps!!! I hope you like them! :o)

August 11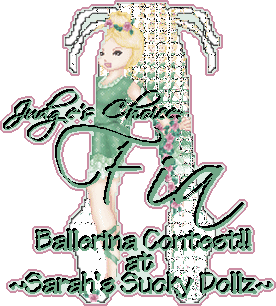 Yay! My little Ballerina won Judge's choice in the Ballerina Contest Sarah's Sucky Dollz.

I've also gotten this gift from Kirsten/Daughterofthenile at Simpixels & Graphics





Yup, it's me! LOL



August 9
Two new dolls! First of all it's Jessica Rabbit (and Roger too as you can see LOL) for the "I'm not bad.. I'm just dolled that way" Contest at Oops, I arted.

That base was just sooo right for her but at the same time it's probably the hardest base I've ever dolled. It's just not made for long dresses. LOL

The second doll is a small hug for my friend and sister in law Sonja. And yes, she's holding a spider, Sonja is weird, she LIKES spiders. LOL

Non of these dolls are for adoption. But to compensate for this I've decided to allow my Simpixel Dolls to be adopted. :o)

And finally I've added a page for Gifts I've made to others as well. Yup, I've been busy lately. LOL

August 4
Look, I've gotten this wonderful doll as a gift from WindowPane at Eden Enchanted just because I really loved another doll she'd made.





I just had to give her a "hug doll"

(It's inspired by her avatar)

August 3
First of all, a new doll! This is my entry for "Doll of the Month - July" at Simpixels & Graphics. July for me is the month of the roses. :o) (No adoption)

Then I've won two awards in the 4 Seasons contest at Svandollz & Graphics Yay!!!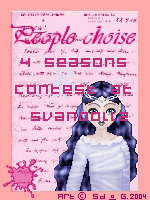 And finally I've gotten this doll of me as a gift from my friend Steph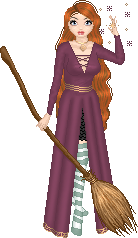 Isn't she just wonderful? :o)



July 28
I've just found out that I've won two awards in the Couple Base Edit at DHF. Yay!!!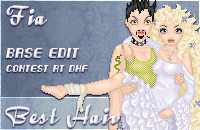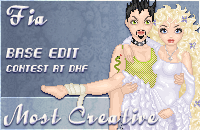 And my Tissot doll above (the one to the right) seem to be doing fine in the "People's Choice" poll too. It's in second place right now which is much better than I dared to hope for. :o)

July 19
I've gotten a nice summer-gift from my friend Kirsten at Simpixels & Graphics. Thanks!!! :o)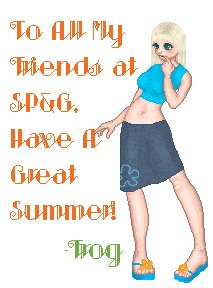 July 18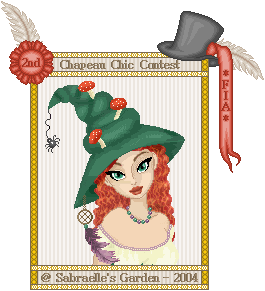 Part 2
Yay! I won 2nd place in Sabraelle's Chapeau Chic Contest! :o) I just had to update a second time today. LOL

Part 1
This time it's just a small gift for my sister Pink. She's got computer troubles and health problems so I thought she could use some encouragement. Hopefully she'll be able to get back online tomorrow though. *fingercrossed*

BTW, in case you didn't know, I'm able to reply to the posts in my guestbook and I've just done so. This will make things more personal I think.

July 17
Remind me to never make male shoes again! *shudder* (In the future all male dolls I make will be bare foot or stand in high grass. LOL)

This couple is made for the Couple Base Edit at DHF. I THINK I made it in time *fingerscrossed *. I'm a slow doller an that contest filled up fast.

And talking about contests, I've started thinking about adding a contest of my own. It might still take some time though.

BTW, I'm made an icon dollie of this couple as well to "compensate" for the fact that I've made yet another no adoptable doll. LOL (and because it's really fun to try to copy the bigger dolls in to icon dollies)

July 12 ½
(That means night between 12 and 13 incase you wonder. LOL)

I've just added a guestbook to my site. (I guess I'm too old-fashioned to be much of a tag board person LOL)

There's only two problems with it; I hate the fact that I can't change the color of the ugly scrollbar and the guestbook is EMPTY. *sob* But I'm sure you will be able to help me fix at least the last problem. LOL

July 12
Aaaaaah!!! I don't think I've EVER had this hard to decide how the final version of the doll should look. I've made her for the Tissot contest at DHF and I just couldn't decide which hat decoration I should go for. And to tell the truth I'm STILL not 100% sure if I picked the right one or not. LOL

Anyway, I've made an icon-version of her as well. It probably look bets against a medium to dark colored background though. The icon dollie is okay to adopt as usual but not the big version.

And finally, I've gotten a summer gift from Frog! Thanks!

July 06
Yes! I've finally found a new Ballerina contest for my poor contest ballerina. She somehow got lost in the mails and never made to the contest I created her for and I've been looking for a fitting contest for her since. Now I've found one at Sarah's Sucky Dollz. Thanks for helping me find it Christina! :o)

But of course I've made a new contest entry as well. LOL This one is for the "Unfinished" contest at Lunar Eclipse. She's supposed to fit the colors and the mood of a background that Ly's made. Isn't the base just adorable? No adoption, this time either. Yes, I know I'm mean. LOL

But just to prove I'm not ALL bad I've turned her in to an icon dollie that you can adopt if you want to. LOL In fact, I've created a whole bunch of icon dollies based on some of my bigger dolls. It was quite fun to do and some are even recognizable. LOL Go check them out!

July 3
I'm home again from my vacation. You can see what I've been doing if you take a look at my newest doll. LOL She's also "Doll of the month" for June.

Besides her I've also created a bunch of "Icon Dollies". It all started as a smiley and a joke at Simpixels (see more here) Someone made a doll on that base and then I of course had to make on too. LOL

In case you can't tell it's me. LOL

Then Lyran made a bigger (eh, well, sort of LOL) base that we could use for our icons at the forum and we even started a base edit challenge with this base. LOL Feel free to participate if you want to. It's actually more fun to create these little guys than you would think. (You can see what I've done so far under Fia-dolls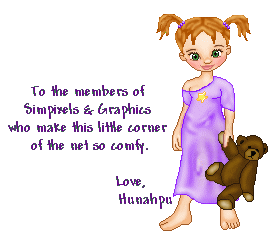 I've also received a couple of gifts! :o) This one from Hunaphu and 3 more under Seasonal Gifts - Summer